Hmmmm … Cameroonian celebrities are at loggerheads again !
Mel B Akwen, a Cameroonian artist, kwown for her hit songs like "Ei Di Pain Me" and her recent video "Ndele" has sparked up a beef with Cameroonian Blogger/Make up artist – Esaw Dillis. Mel B Akwen fired at Esaw Dilis because of a comment Esaw Dillis dropped on a pic posted on her facebook page. It all started when Mel B Akwen posted the photo below;
Esaw Dilis commented on the photo saying,

and she later on put up a post on facebook which was definitely aimed at Mel B Akwen, even though Mel B Akwen's name was not mentioned in the post.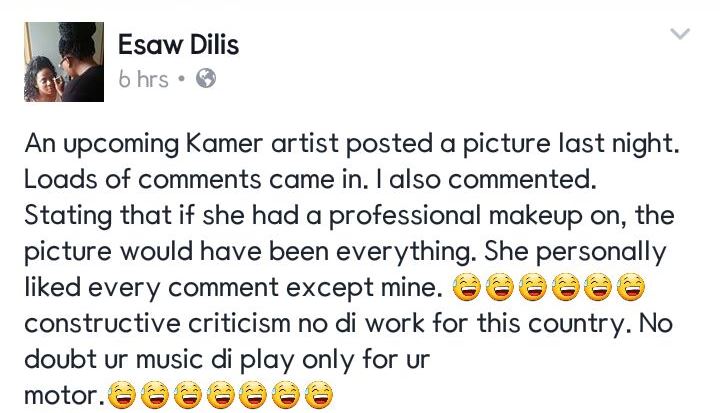 Esaw Dilis called Mel B Akwen an upcoming Artist and said her music plays only in her car, as seen above. At this Point, Mel B Akwen was not having any of this and she shared Esaw Dilis' post while throwing solid punches at the make up artist. see Mel B Akwen's post below !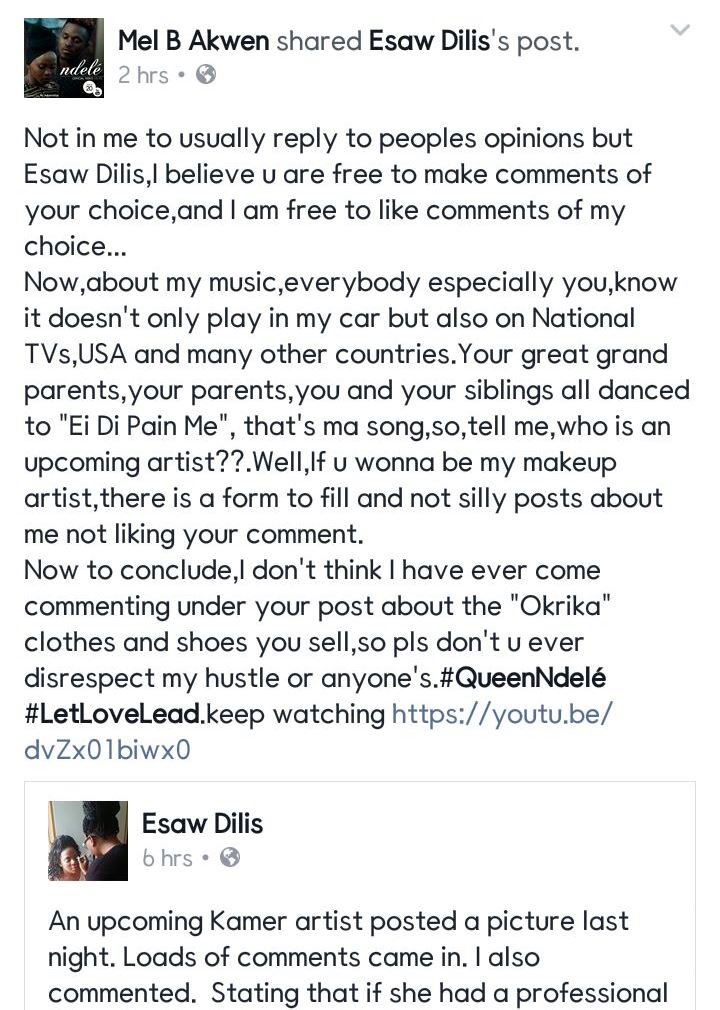 Hmmmm … That shade though. It is safe to say that Cameroonian celebrities (If we can call them that) are usually bitter towards each other. We have seen a couple of instances here on THJ like the Magasco Vs Dj Eric beef and the Brenda Dery Vs Miss P issue. In your opinion is all this necessary ? Who do you think is Wrong ? Mel B Akwen or Esaw Dilis. Drop your comments below
---

Follow us:
Twitter: thehotjem
Facebook: thehotjem
Instagram: thehotjemblog
---
(c) copyright www.thehotjem.com

<!-comments-button-->