I am glad that my daily inspirations are slowly piling up! I was getting scared that nothing was inspiring me and that's not good. Something should always inspire you as a human being. Being inspired by something or someone is what helps us set goals for ourselves and motivates us to keep going.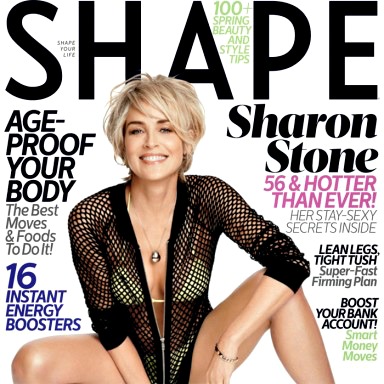 During the month of March, as always I read a couple of magazines-one being SHAPE magazine. One cold morning as I was rushing to catch a shuttle in NYC, I quickly stopped over at Duane Reade to get something and as I was rushing out, there it was…this gorgeous looking woman staring right at me with a cropped short blond hair with a gorgeous smile to go with her look. I stared back at her and couldnt believe what I was seeing. It was Sharon Stone on the cover of SHAPE magazine! (I can already tell some peoples minds were drifting off to places I dare not even think about so come back to reality).
I am simply talking about a magazine with Sharon Stone on the cover (who at 56 looks absolutely amazing)! At the time I saw this magazine, I had slacked off a bit with my workouts and had not been to the gym in a while. Looking at her at 56 made me think to myself "Gosh I want to look just like her but the back version"1 So I picked up the magazine and made a decision to start working out again which I am currently doing. Seeing Ms. Stone on the cover of the March issue of SHAPE made me think that "Age ain't really nothing but a number"!!!!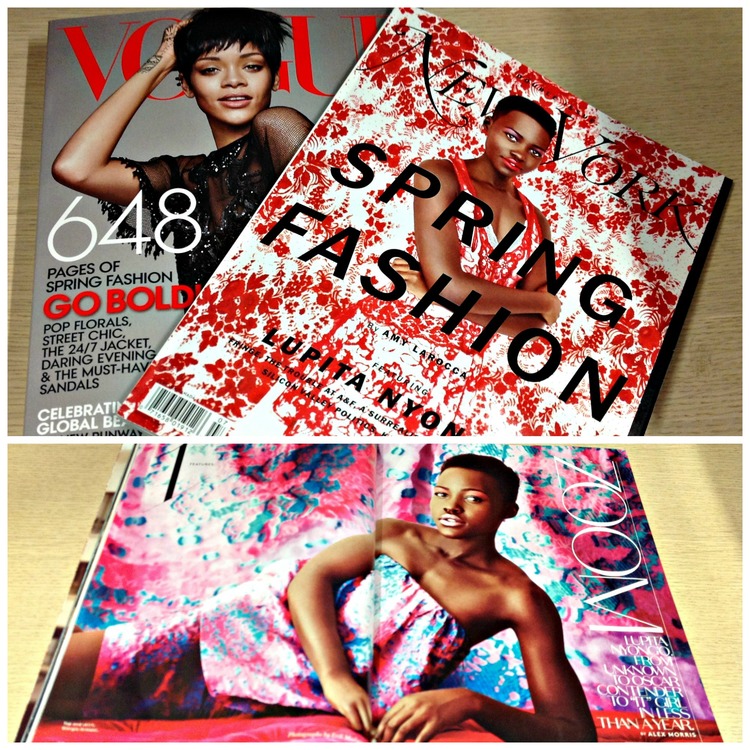 I also enjoyed reading "Cosmopolitan" Magazine as I love Rihanna's very edgy style. I wish she could just stay with the short hair permanently as It looks amazing on her. I have to admit that the March issue of Vogue had tons of pages that kept me busy through the sleepless nights!
Of course the month of March would not have been fulfilled without picking up anything with Lupita Nyong'o. So I picked up "New York" Magazine after seeing so many magazines with her in them.  Lupita has always been a true inspiration to me.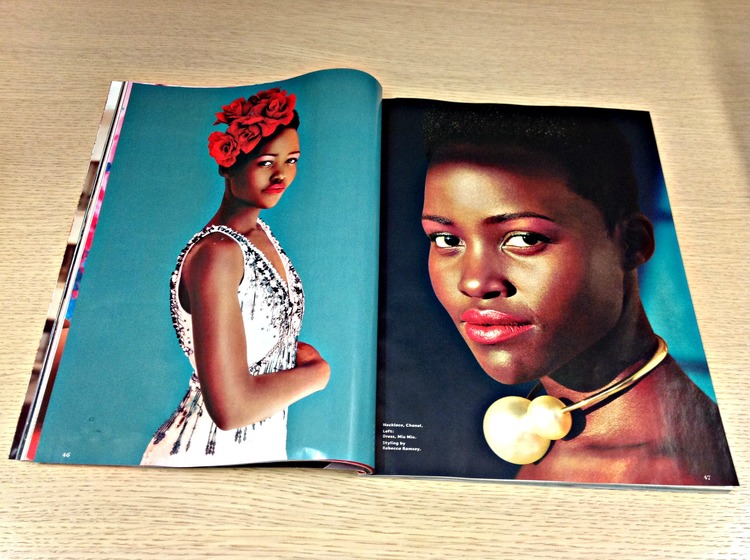 Luptia is a successful African woman who takes pride in who she is. She is not the voice of my identity as I did not need Lupita to make me feel beautiful. I am saying this because it seems like she has forcefully been thrown into the whole "black is beautiful" debate as she is dark-skinned and has her hair in its natural state. I do not admire her for those attributes. I admire her because she knew what she wanted to do professionally and went out to follow that dream. I do give her lots of props for going for her dream in a society that worships light skinned complexion, straight long hair with blue eyes in Hollywood and everywhere else. For that I clap my hands to Lupita Nyong'o as this will help other little black girls know that they can also achieve their own dreams despite all the man made "obstacles"! I think I need to pick up the Economist sometime soon hehehe.

[contentblock id=2 img=gcb.png]

(c) copyright www.thehotjem.com

<!-comments-button-->