Singer Ambe's long awaited and highly anticipated video for Reste Là is now available on YouTube for the world to watch.  All I will say is Dayuuuuum. This time around Camer's popular Bafut pikin- Ambe, is back on our screens with a new attitude, one of a Bad boy!
Released by Red Eye Group,  Reste Là is a song produced by the phenomenal; Akwandor aka Blaise B. It is a mid-tempo song that unravels a certain level of sexual intimacy that a guy can share with a girl he loves. The video was directed by NS Pictures and it leaves us in awe! In previous videos, we have seen Ambe portray the role of an ambitious guy from Rendezvous in Bamenda, a Better boyfriend, and a loving partner, but this time he is a reckless womanizer!
Related News: Man Crush Monday (#MCM): What It Takes To Be As Sexy As Cameroonian Artist Ambe!
The video depicts how casual and insignificant sex is, in this generation, especially with the use of instant messaging and social media. Ambe exposes this vice so that people can be aware of its implications. This is one video you would enjoy watching! Click below to watch!
After watching the video, all I will say is "That side chic though"! The video takes you into a world of lust and an affair that well maybe some might relate to. Remember our last post about Ambe's Instagram post? If you missed you can read it HERE but the video basically seems to be a summary of the below question: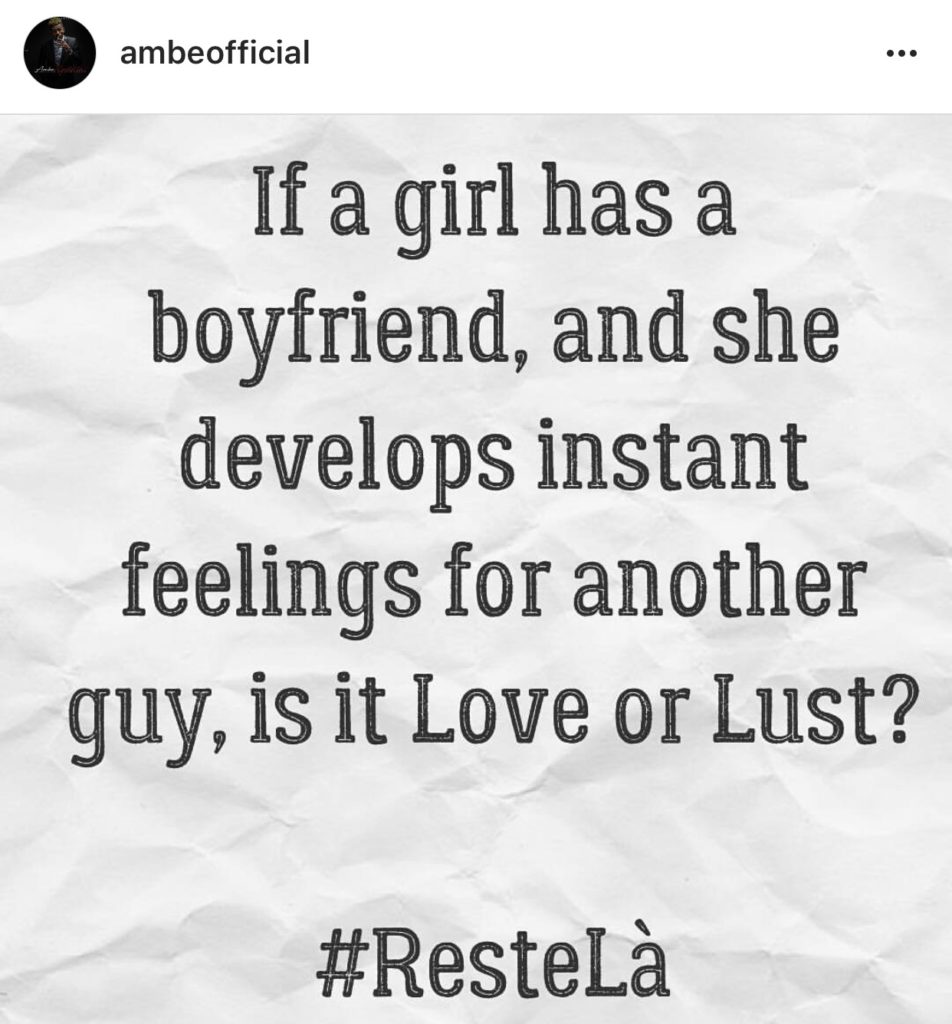 One thing noted is that the girl in the video is very curvy and voluptuous. Does this Bafut pikin like his girls curvy and thick? We need more artists putting curvy and thick women in their video to help improve on ladies self esteem since most of the girls or the video vixens are always skinny and light skinned. Then there is hope for the curvy girls who are CRUSHING on him rightnow… Just sayin! Watch and enjoy the video and tell us what you think 🙂
---

Follow us:
Twitter: @thehotjem
Facebook: @thehotjem
Instagram: @thehotjem
---
<!-comments-button-->