The 1st Bonteh Digital Media Awards (#BDMA) event organized by Bonteh Media Network has come and gone. The awards ceremony which took place on December 22nd, 2017 in Buea was considered a success. The HotJem was also nominated in two categories for the #BDMA; Best Online Magazine and our Editor-In-Chief  Mbole Ekaney was nominated for Best Fashion Blogger.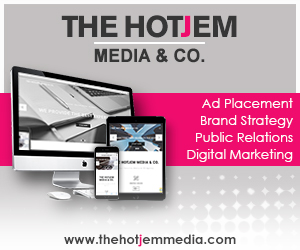 Although the event has come and gone, rumors around the selection process of those who won have been flying around on Social Media over the last few days, notably the Best English Blogger (won by Joan Ngomba) and the Best Public Relations (won by Prince Enobi) categories! Rumors had it that Joan and Prince only won because they were "sponsors" and/or took part in the event as Joan was the Red Carpet host! In my Wendy Williams voice all I will say is "How you doin'!"
Related News: Yemi Alade, Mr. Leo And Many Others Win Big Time At The 2017 African Entertainments Awards – USA!
I can see why rumors were flying around as its been assumed that with many other Cameroonian award shows, people have won not because of merit but because they either paid for their award, sponsored the event or simply because they know the organizers. But the #BMDA team has cleared the air about these crazy rumors regarding Joan and Prince's win in their official disclaimer below. Hopefully the disclaimer can convince the doubting Thomas'.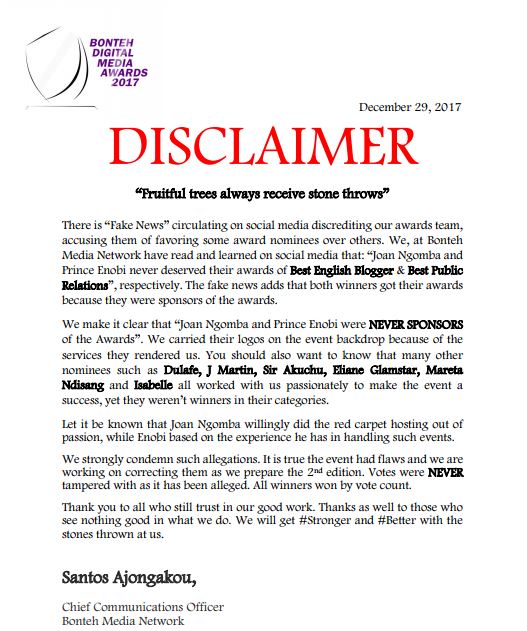 As for us (TheHotJem.com), although we think we should have won Best Online Magazine, not winning an award doesn't make us think any less of what we do. We know that we are doing a great job in contributing to Cameroon and Africa's pop-culture as we work endlessy to promote and provide content to do so and our supporters are the best! So thats all that matters to us. So win or no win we keep it moving like the winners we are! 🙂
Featured Post
---

Follow us:
Twitter: @thehotjem
Facebook: @thehotjem
Instagram: @thehotjem
---
<!-comments-button-->