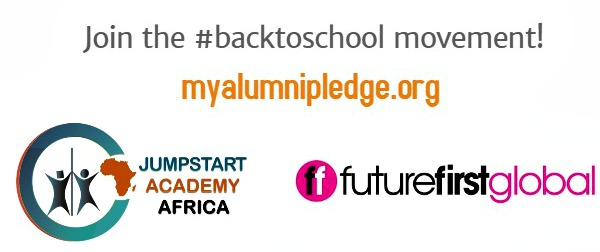 The HOTJEM is happy to announce its collaboration with JumpStart Academy Africa on the Back To School Week Campaign which runs from February 1st to February 8th.  #backtoschool campaign by JumpStart Academy Africa in partnership with Future First Global is an educative campaign across Cameroon and Nigeria which promotes the idea of people supporting their former schools. As part of this campaign, the key element and question asked is "What Advice would you give your 16 year old self?"  If I were to advice my 16 year old, self four key things come to mind:
It is OK to dream big and to know what you want to do in life. At 16 years old, many people tend to underestimate what teenager's ambitions are. You hear many older folks saying "You are too young to know what you want in life". Well yes although you're still young, in today's world which is fully loaded with a plethora of easily accessible information, younger minds have exposure to learning so much more and being exposed to bigger dreams than before. The sky is no longer the limit as you can get as much information as you can and so go for it!
Pay more attention to the things that interest you and learn more about them! Get involved with the things that interest you the most by associating yourself with people of similar interest who are already doing it. For example, if you have an interest in TV/Media/Journalism look into volunteering for TV and/or Radio stations. You'd be surprised how much help they need and volunteering to work for them will expose you to the everyday life of TV media and more. If your interest is in blogging, reach out to some Bloggers, send them a couple of articles you wrote and ask how you could improve on your skills. Many Bloggers would be happy to provide blogging tips. A Blogger might even be interested in having you as a contributor. You might not get paid initially but you will improve on your blogging skills and get exposure to other bloggers.

Be confident in yourself and don't let anyone tell you that you can't do it. Believe in yourself and you will achieve as you have to be your number one fan and believer before others can believe in you. Remember that nothing good comes easily. Hard work and consistency is the key to your success as you will always be prepared.
Do what you love and love what you do. When I started blogging and created TheHotJem.com, I ignored discouraging advice or comments which suggested that I should not pursue my interest in blogging. I blogged consistently because I enjoyed it and blogging was second nature to me. Fast forward I now run The HotJem – a Fashion, Lifestyle, Entertainment (Media) portal, visited by thousands of readers every month and which is gaining a lot of popularity in Cameroon. My goal was and still is to make THE HOTJEM one of Central Africa's to-go-to site. My hard work, consistency and patience are paying off as it is always a great feeling when I receive positive messages and feedback about The HotJem and most importantly I love what I do and I am doing what I love. 🙂
To further support the #backtoschool campaign, it is good to mention that Alumni mentors are very essential in the growth process of students, especially teenage students as they mentor students attending their former school by providing them with the guidance they need. It's a great way for Alumni to give back to their former school. For more information on this campaign visit JumpStart Academy Africas Website and FaceBook Page.

Don't forget to follow THE HOTJEM

on Facebook at: THE HOTJEM on Twitter: @theHOTJEM and on Instagram at: THEHOTJEMBLOG

(c) copyright www.thehotjem.com

<!-comments-button-->