Hi everyone, you all know how much The HotJem loves Wednesday's especially when we have a beautiful and dynamic lady to Crush about! Weeeeell look not further… Today's
Woman Crush (#WCW)
 is a young lady who is one TO WATCH OUT FOR! She is a beautiful singer, songwriter, plays the guitar and has an amazing voice! Not fair right? Well life isnt always fair is it? 🙂
Her name is
LaLa (Tokee)
 aka
Miss O.K.
and yes she is a sexy vixen who is rebranding herself BIG TIME to ensure that she has a bright future ahead in her career.
We've had our eyes on her for the last few months as we've watched her activities especially around the
Alpha Better Record's
team. I know, I know we keep bringing ABR up but when the CEO of a Record Label with some of the hottest Artists is also one of Africa's most sought after music Producer's, you've gotta give credit where credit is due!
So in true
HOTJEM
style, we still had many questions on our mind and we're just throwing them out there, with a couple of answers, based on our own recent reporting from some
very reliable sources
. For example…
THJ: Is LaLa really working on new music with Alpha Better Records or is she just hanging out with folks from the best label in Central Africa?
Our sources have confirmed that

she is currently in studio at ABR under the direction of maestro Salatiel

; but she has not yet been signed to the label. Maybe that will come later if her next song is a big hit?
THJ: Why is LaLa so often seen around with

Askia

these days? Are they just professional colleagues, are they working on a collab song, or are they besties? Or something more? Hmmmmm…
Our sources indicate that these two Camer divas are besties and that Askia is the one who introduced her girlfriend to Alpha Better Records. Askia personally directed LaLa's recent photo shoot, so their relationship is something very special and unique in the Industry.
THJ: Where did LaLa disappear to after her debut single "Packfine" and why did it take so long to come back to the studio with new music?
We already knew that LaLa went to Nigeria to pursue intensive musical studies in a renowned musical institution there. According to a source close to her, she wanted to take all her time to master her art, work with nothing but the best, and come out with a song we will remember for ages.
THJ: Who is writing her songs? Salatiel, Mr. Leo, Blaise B, Big Joe or LaLa herself??? We wanna know! 
Again according to our sources at Mount Cameroon, Salatiel is the maestro producing the beats and directing her main hit song scheduled for drop by end of July 2017. Big Joe also provided beats for another song to be released later in the year. Blaise is also involved in producing, mixing and mastering two songs for LaLa.
THJ: What else is LaLa up to? Rumors of a clothing line and some other kind of business? Where is the truth?
Well the biggest shocker for us was discovering that

LaLa recently launched an online shopping platform for her own kind of Miss O.K. clothing

for fellow artists and folks who wanna dress and look like top stars. We have also learned that she is planning to open a boutique in Buea. For now, you can check out her selections on the OK Styles Shopping profile on Instagram (@okstylesshopping or www.instagram.com/okstylesshopping).
Now did we just hook you all up with some insider info or what??? Let's just say "You're Welcome and you can THANK US LATER!! Now you see why Miss O.K. is our WCW! Too many hidden secrets and we love some secrets! Have a great day and enjoy the rest of the beautiful photo's and you can see more of her HOT pics on Facebook and Instagram. 😉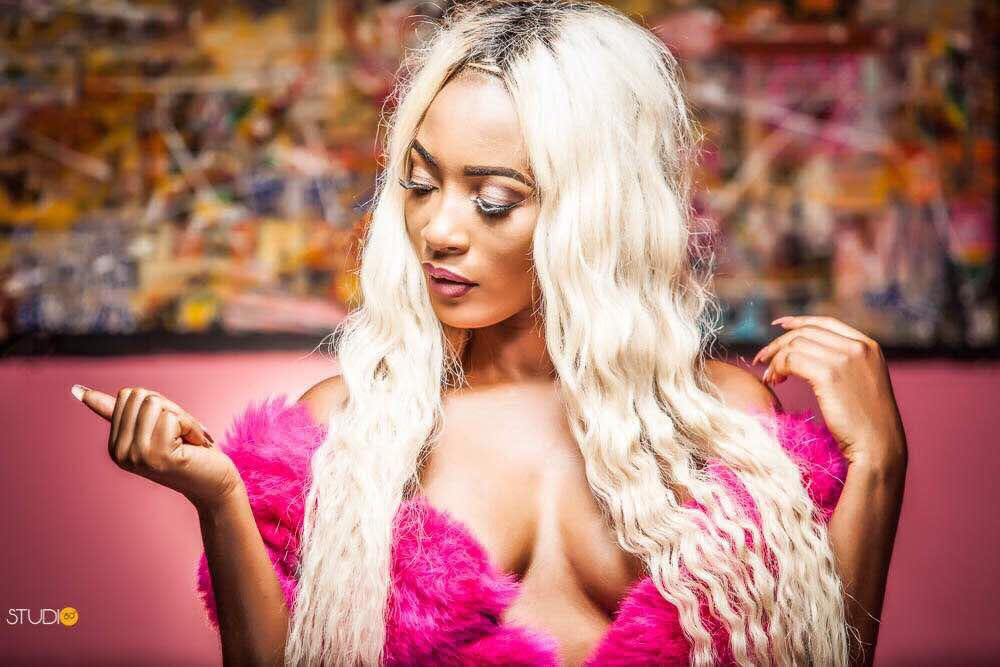 Photo credit:

Studio 89

| MUA:
Zainab
All photo's provided exclusively to THJ on behalf of LaLa
---

Follow us:
Twitter: @thehotjem
Facebook: @thehotjem
Instagram: @thehotjem
---
<!-comments-button-->