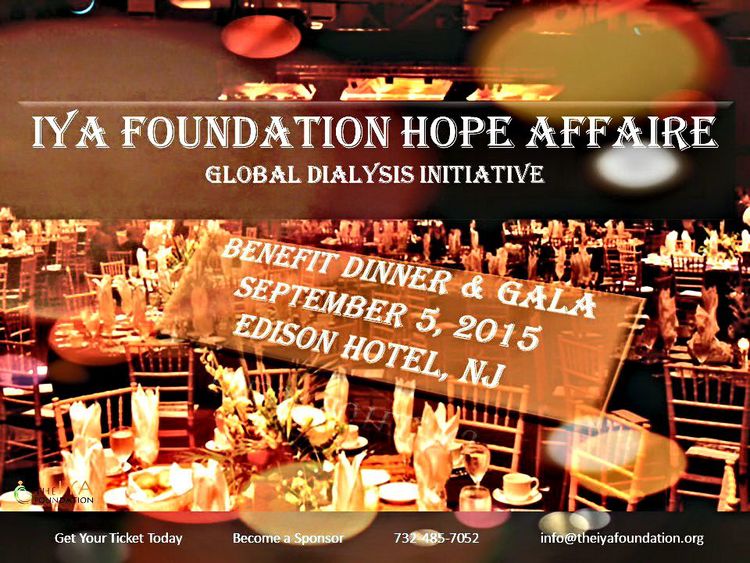 I am excited to announce that there will be an amazing Fundraising Benefit Dinner and Gala event in New Jersey on September 5th, 2015 held by one of my favorite not-for-profit Organization's called The Iya Foundation.  Please read the official Press Release below to see the many reasons why I love this Organization! So please if you are around the New York, New Jersey, Connecticut, Philadelphia, Delaware, Maryland, Baltimore and Virginia area you really should check this event out and/or make a donation if you cannot attend it and count it as your one good deed for the year 🙂
For Immediate release:  The Iya Foundation Hope Affaire
The Iya Foundation (http://theiyafoundation.org), a 501c3  not-for-profit organization that is committed to educating and raising awareness on Chronic Kidney Disease, Organ Donation, as well as raising funds that benefit "in need" kidney dialysis patients and clinics,  is pleased to announce its inaugural annual "Iya Foundation Hope Affaire" Fundraiser. The event will be held at The Edison Hotel located at the Raritan Center in Edison, New Jersey on Saturday, September 5th, 2015 from 7:00 p.m.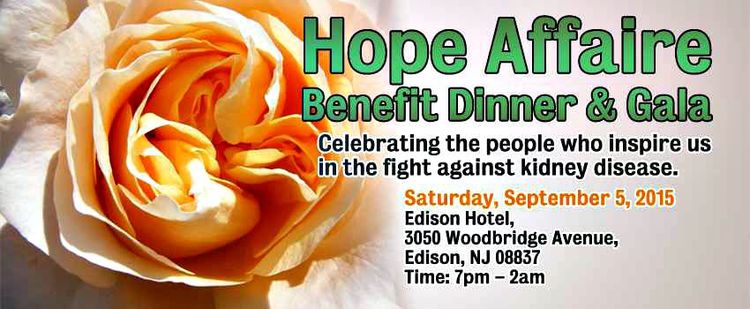 The event will play host to some 250 guests, prominent among them, some 2015 Edison Chamber of Commerce Members, renowned international nephrologist, Dr. Glory Ashuntantang, and Gospel Artists Mr. Preston Gross, and Mrs. Fati. K. Samura. The soiree will consist of dinner, music, a silent auction, speakers, dance and much more.
Tickets to attend the event are now available online at selling price of $100 for individuals. Corporations, companies, and/or individuals interested in being a part of the event may purchase tables and would be acknowledged in all print and electronic advertising materials as well as featured on our website. For more information on this, please visit our sponsorship page at: http://theiyafoundation.org/sponsorship/.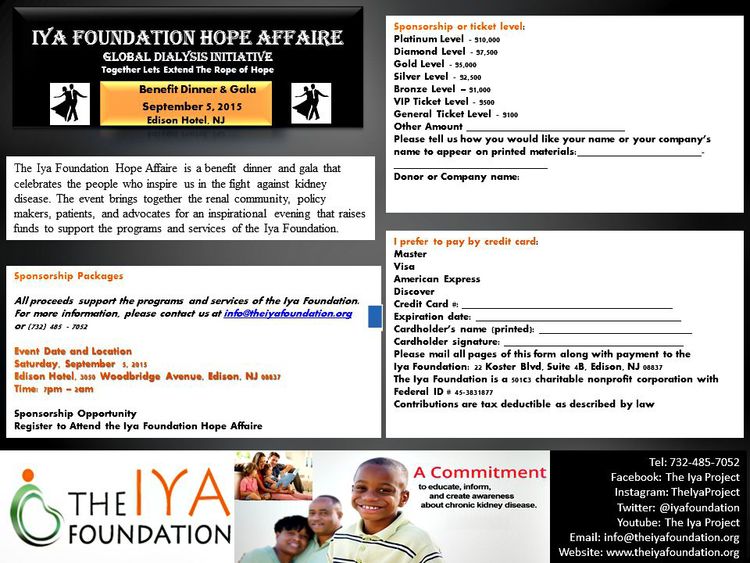 PHOTO: FLYER SHOWING SPONSORSHIP INFORMATION
In 2014, TIF provided financial assistant grants of up to $1000 each to 5 kidney failure patients.  This year, TIF is embarking on a new project, the Global Dialysis Initiative Program (GDIP), aimed at providing assistance to Dialysis Clinics in developing countries. Proceeds from "The Iya Foundation Hope Affaire" will fund the GDIP.
As the count down to the event draws close, it is important to note that Kidney disease is the 9th leading cause of death in the U.S with over 100,000 individuals on the kidney transplant wait list. Every year, kidney disease kills more people than breast or prostate cancer. In fact, in 2014 alone, approximately 4450 individuals died waiting for a kidney transplant. Statistics show that blacks are 3 times more likely to experience kidney failure than the average American. Situations in developing countries are alarmingly worse. This creates a call for help for this vulnerable group which TIF is trying to respond to.
The Founder and President of TIF, Iya Bekondo-Granatella, was diagnosed with kidney disease at the age of seven, and subsequently lost both of her kidneys ten years later. Through the support and charitable effort of her school, church, family, friends, and her community, Iya was able to get a transplant on September 6, 2005. Upon receipt of her life saving transplant, Iya has made a commitment to helping low income individuals who suffer from end stage renal disease through her foundation, TIF. Iya got her Associates in Science from Middlesex County College, her Bachelor of Science from Kean University, and recently, her Masters of Science from New Jersey Institute of Technology. For information about TIF, please visit: www.theiyafoundation.org.
Contact: Iya Bekondo- Granatella,  Email: iya.bekondo@theiyafoundation.org,  Tel: 732-485-7052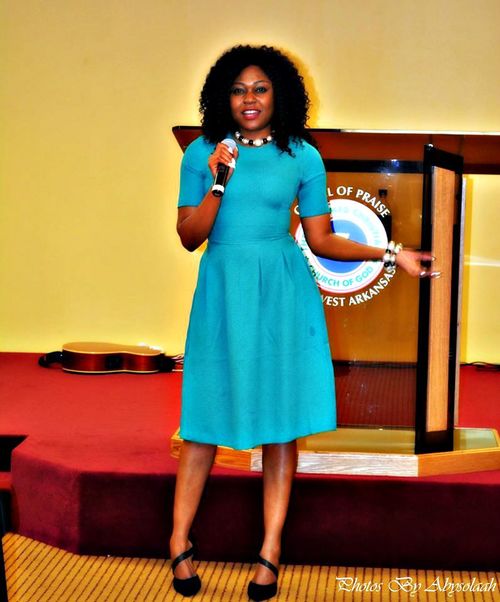 PHOTO: IYA BEKONDO-GRANATELLA (FOUNDER & CEO OF THE IYA FOUNDATION)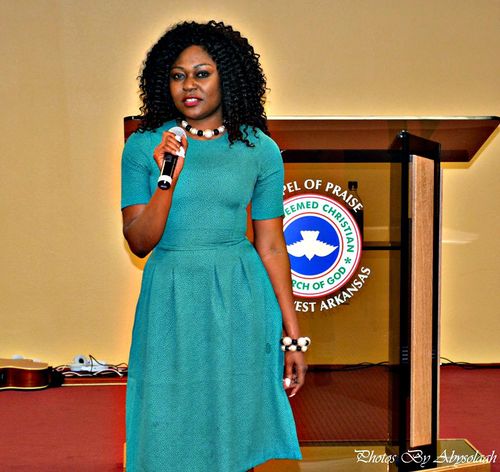 Iya is very passionate about educating people on kidney disease. The New Jersey based CEO attends functions to promote awareness and to help raise funds every year for those suffering from kidney disease.
Every year from February-March, hundreds of Iya Foundation supporters and others worldwide show their support of the International Kidney Awarenss Day (in March) by either buying one of the green Iya Foundation T-Shirts sold on the Iya Foundation's website as seen HERE or by wearing green and taking pictures and/or selfies of themselves and sending them to Iya. Below is a collage of many of the pictures received!
Fast Fact: Did you know that high blood pressure and diabetes are the two leading causes of kidney disease? (obtained from www.kidney.org)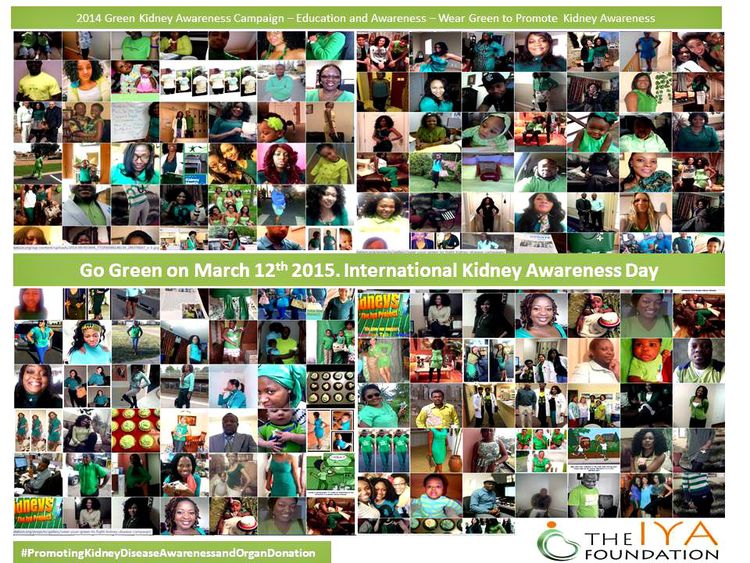 Don't forget to follow THE HOTJEM
on Facebook at: The HotJem, on Twitter: @theHOTJEM and on Instagram at: THEHOTJEM


(c) copyright www.thehotjem.com

<!-comments-button-->