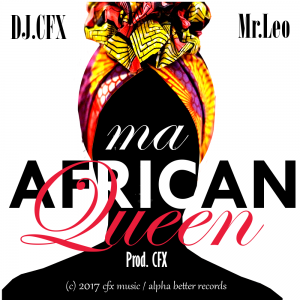 OK People… look you know any song with Mr. Leo on it is HOT and most likely for THE LADIES LOL! Afterall, he is the official "ladies man"!! So this brand new called "ma African Queen" is no exception! We can all agree that Mr. Leo is the man of the moment and arguably Cameroon's biggest star so it was only right that veteran multi-talented producer/engineer/writer known to most simply as "CFX" hooked up with him for a well-timed project such as this. Keep reading to get the full gist!! 
The typically discrete Mr. CFX is using this track to mark a more public entrance to the mainstream Cameroonian music scene after having served long behind the scenes working closely with  some of Cameroon's most talented artists at various stages in their careers such as Salatiel, Daphne, Bonzyz, Mr.Daddy Black, Shura, Dr.Sley and M-Pro to name a few.
Believe it or not, but this brand new track which will officially be released on March 8th, is rumored by those present in the session to have be written and recorded in just two hours at Alpha Better Studios late one night due to both artist's tight schedules, mixed and mastered subsequently for this surprise release!! Now talk about efficiency meets passion and talent! 
 DOWNLOAD THIS SONG ON YOUR PHONES!!!
In reference to the project, this is what CFX had to say "We decided to do something very festive like what David Guetta and the likes of Bob Sinclair have been doing for years, but with our own special African flavour into it, very meaningful lyrics especially given that we intended to release on Women's day" .
He goes on to add "I've known Mr. Leo from when his first hit "e go beta" was a demo and he is the most humble, patient and simple person you'll meet, I'm certain his success is just very normal and he has greater places to go. I'm not very popular on the scene but known by a handful who count and am happy Leo took the time out to thrash this project out with me".
The track written by Mr. Leo and CFX and produced and engineered by CFX is an up-tempo piece mixing a hard pulsating "techno" vibe but not missing a signature African solo-guitar (played by CFX himself who turns out to be a talented multi-instrumentist), and sports the typical bi-lingual, poetic and uplifting Lyrics one can expect from a Mr.Leo track like when he sings "You've been working all day now it's time to party…Toutes les femmes qui bosse dur ont le droit de parler" referring to the hard-working spirit of the African woman but engouraging them to take a day off whilst also getting themselves heard!
All the way from Belgium currently on a European tour (for which The HotJem will be bringing you exclusive gists)…  Mr. Leo said "It's always a pleasure to work with a big brother like Ed (CFX), he's really very close to Salatiel and he's known me from very early in my career when I was just doing demo's and I could not even turn down the opportunity despite a really hectic schedule… I had to fly to Belgium the next day or so but we did the track really quickly coz we knew the feeling we wanted to create…"
Look we all know that Leo is Mr. Lover Lover and his songs are usually slow paced and romatic lol so nice to get a dance-like song from him as well… something that ladie can shake their booties to on that special day and every day after that! 😉 So ladies… while at it, remember to Dab for Mr.Leo and enjoy your special day with this song on your phones, ringtones and whatever party you will be attending on this day! 
CFX Music, 2017
---

Follow us:
Twitter: @thehotjem
Facebook: @thehotjem
Instagram: @thehotjem
---
<!-comments-button-->